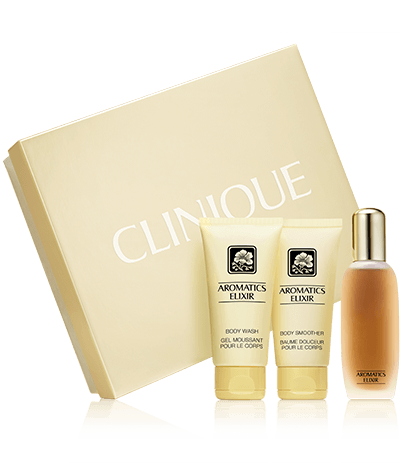 Aromatics Elixir Riches Gift Set
Worth £75.50. This non-conformist fragrance performs the role of perfume, but goes far beyond. For the individualist in every woman. Layer with shimmering gel Body Wash and Body Smoother lotion for long-lasting notes of rose, jasmine, ylang ylang and vetiver. Portable scent essentials in a signature gift box.
A great value for Aromatics lovers.
Includes:
• Aromatics Elixir™ Perfume Spray, 45ml
• Aromatics Elixir™ Body Smoother, 75ml
• Aromatics Elixir™ Body Wash, 75ml
Please note that this product is excluded from all discount offers and promotions, including Smart Rewards discounts.
Have a product or beauty question?
Works for all skin types.
Very Dry to Dry
Dry Combination
Combination Oily
Oily
Consultants Recommend