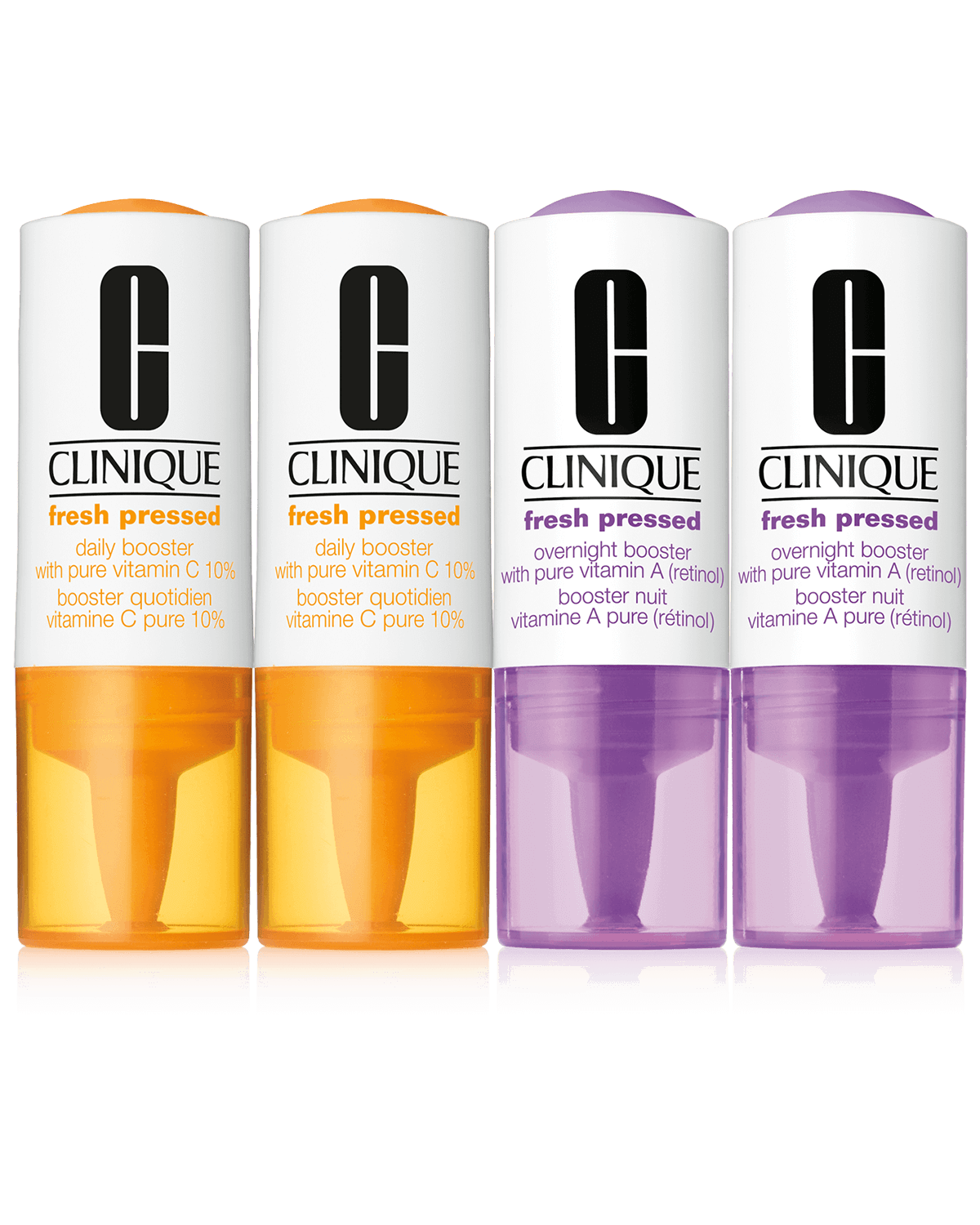 Fresh Pressed Clinical™ Daily and Overnight Boosters With Pure Vitamins C 10% + A (Retinol)
What it is
Our freshest, most potent day-and-night de-ageing booster system. 4 pack.
What It Does
Turns your moisturiser into a de-ageing powerhouse. Our breakthrough day and night Boosters with Pure Vitamins C 10% and A (Retinol) are freshly activated. Simply mix a few pumps with your favourite Clinique moisturizer—Vitamin C in the morning, Vitamin A at night. Enjoy a potent de-ageing boost without changing the moisturizer you love. Every day, Vitamin C 10% works on skin's surface to instantly brighten.
See remarkably even-toned and retexturized skin with continued use. Every night, Vitamin A (Retinol) penetrates deeply into skin's surface. Over time, skin appears revitalized, lines and wrinkles 're-filled,' youthful tone recaptured.
Key Ingredients / Technology
Our guiding dermatologist recommends using topical Vitamins C & A together for their synergistic power. Fresh is key—they naturally degrade when exposed to oxygen and lose their effectiveness. Clinique's exclusive stay-fresh packaging protects their full potency until activation for maximum results.
• Pure Vitamin C 10% powder concentrate is sealed in an airproof chamber.
• Pure Vitamin A (Retinol) liquid concentrate is encapsulated in a double-walled chamber.Activating the package releases the pure Vitamin into the vial's de-ageing soothing emulsion, which is bursting with powerful revitalizing ingredients. Once activated, each Booster is at maximum potency for 7 days/nights, but can be used up to 14 days/nights.
How to use
To Activate:
1. Leave cap on. Remove foil.
2. Firmly press inner bulb 2x to release Vitamin into the de-ageing soothing emulsion.
3. Shake 15 seconds.
To Use:
1. Shake before use. Remove cap.
2. Press bulb 2-3x to dispense into palm of hand.
3.
Mix in hand with a dollop of your moisturizer. For Vitamin A, use at night only, smooth all over face, but avoid the eyes, neck and décolletage. Daily sunscreen is imperative.
Great to Know
Allergy Tested. 100% Fragrance Free. Non-Acnegenic. For all Skin Types.