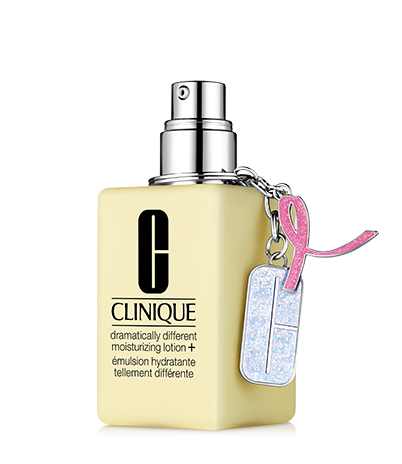 Great Skin, Great Cause Dramatically Different Moisturizing Lotion+™ Limited Edition Jumbo
What It Is
Dermatologist-developed moisturizing lotion for all-day hydration. Includes a limited-edition keychain to honour and support breast cancer awareness.
What It Does

Genius yellow moisturiser hydrates all day. Silky, penetrating formula slips on easily, absorbs quickly. Helps strengthen skin's own moisture barrier, so more moisture stays in. Skin that holds onto moisture has a youthful-looking glow.
In support of The Estée Lauder Companies' Breast Cancer Campaign, Clinique will donate £7.84 from the purchase price of every Great Skin, Great Cause sold from 1st October to the Breast Cancer Research Foundation®.

The secret's in the system.
Our revolutionary 3-Step Skin Care System was created by a celebrated dermatologist. It's simple, customized and takes just three minutes, twice a day: cleanse with Facial Soap, exfoliate with Clarifying Lotion, moisturize with Dramatically Different Moisturizing Lotion+, oil-free Gel or lightweight Jelly.
Have a product or beauty question?
Works for all skin types.
Very Dry to Dry
Dry Combination
Combination Oily
Oily
Consultants Recommend