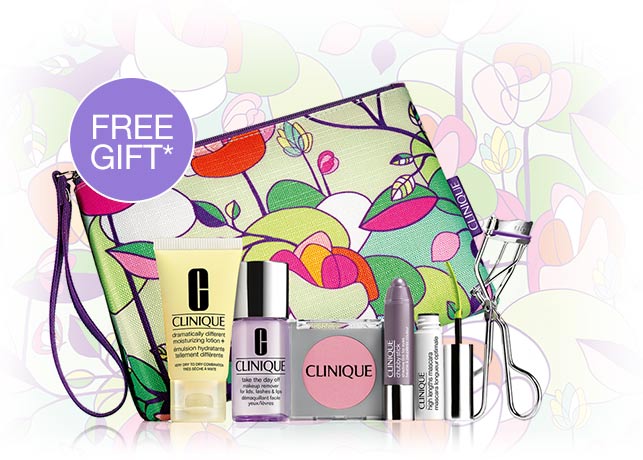 Spring Pretty.
Your free* gift
Exclusively available at Boots from
Thursday 12 to Saturday 28 March.
All your Spring beauty essentials in convenient travel-sizes. Including our latest Chubby Stick Shadow Tint for Eyes and all you'll need for your Spring pretty look this season.
Find your nearest store
See all other dates
Your gift includes:
1
Dramatically Different
Moisturizing Lotion+
The big plus: Our new formula
guarantees a healthy glow.
2
Take The Day Off Makeup
Remover for Lids, Lashes
and Lips
Speeds the departure of hard-to-remove
eye and lip makeups.
3
Blushing Blush Powder
Blush in Pink Love
Silky, natural-looking colour blends
beautifully for a fresh-faced look.
4
Chubby Stick Shadow Tint
for Eyes in Lavish Lilac
Long-wearing and non-smudging
formula provides a lightweight sheer
wash of gorgeous colour.
5
High Lengths Mascara
in Black
Stretches lashes to new lengths
for eye-opening effects.
6
Eyelash Curler
Helps coax lashes to a long,
bold, upturned look.
Terms and Conditions: *Yours with the purchase of any two or more Clinique products, one to be skin care, from Thursday 12 to Saturday 28 March, exclusively at Boots. One gift per client, while stocks last. Gift contains promotional size products.