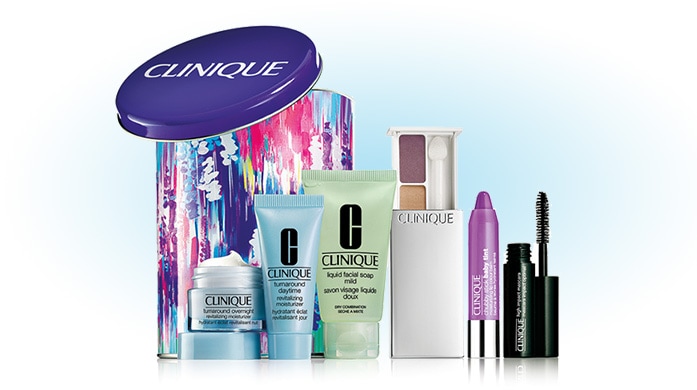 Pretty must-haves.
Your free* gift.
Exclusively available at Boots from
Thursday 30 July to Saturday 15 August
All your summer beauty must-haves. The skin care and makeup you'll need to cleanse, moisturise and glow whether you are home or away this summer.
Find your nearest store
See all other dates
Your gift includes:
1
New Turnaround Overnight
Revitalizing Moisturizer 15ml
Delivers the energy infusion
skin needs to optimize
nighttime renewal.
2
New Turnaround Daytime
Revitalizing Moisturizer
in Rosy Glow 15ml
Instantly delivers a fresh,
luminous, wide-awake glow.
3
Liquid Facial Soap Mild 30ml
For a clean start.
4
All About Shadow Duo
in Beach Plum 2g
Perfectly-paired shades for an
effortless eye look.
5
Chubby Stick Baby Tint
Moisturizing Lip Colour
Balm in Flowering Freesia 1.2g
A bit of colour, a hefty helping
of moisture.
6
High Impact Mascara
in Black 3.5ml
Effortlessly lusher, plusher,
bolder lashes.
Terms and Conditions: *Free with the purchase of any two or more Clinique purchases, one to be skin care or foundation. Does not include treatment accessories. Gift contains promotional size products. One gift per client, while stocks last.