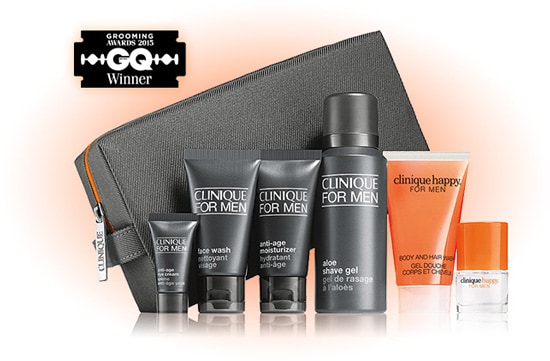 Everyday Essentials.
For Men.
Your free* gift.

Available from Thursday 17 September to Saturday 3 October
In your 6-piece Clinique for Men gift discover your everyday essentials for a fast and easy way to great skin.
Find your nearest store
See all other dates
Your gift includes:
1
Anti-Age Eye Cream 7ml
Hydrating treatment combats eye-area
lines, wrinkles.
2
Face Wash 30ml
Gentle, thorough cleanser. Leaves skin
feeling fresh, comfortable, never
tight or dry.
3
Anti-Age Moisturizer 30ml
All-day hydrator combats lines,
wrinkles, dullness for a younger,
revitalized look
4
Aloe Shave Gel 41ml
Aloe-rich gel softens and cushions
face and beard for a smooth,
close shave.
5
Happy For Men Body
and Hair Wash 50ml
A daily-use foaming body wash
with a hint of fragrance.
6
Happy for Men 4ml
Cool. Crisp. A hit of citrus.
A refreshing scent for men. Wear it
and be happy.
*Yours free with the purchase of any two or more Clinique For Men products. Gift contains promotional size products. One gift per client, while stocks last.