Love, Clinique. Your free* gift.


Thursday 5 February to Saturday 21 February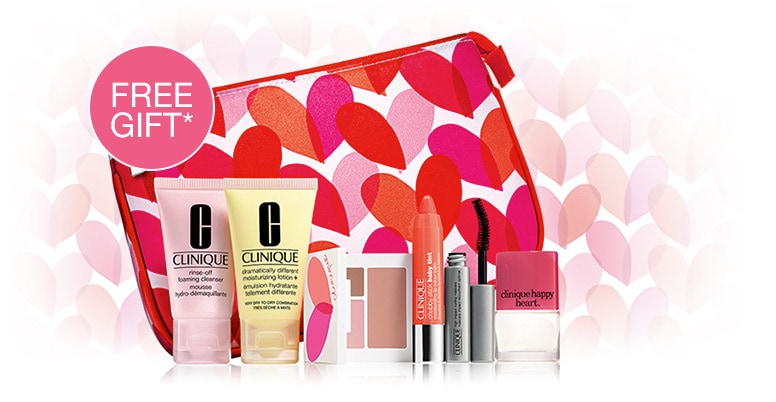 Love, Clinique.
Treat yourself or a loved one to this beautiful Clinique gift. Including our latest Chubby Stick Baby Tint Moisturizing Lip Colour Balm and a limited edition compact with Eyeshadow and Blush in one.
Find your nearest store
See all other dates
Your gift includes:
1
Rinse Off Foaming
Cleanser
Gentle, creamy foam lathers
away makeup.
2
Dramatically Different
Moisturizing Lotion+
The big plus: Our new formula
guarantees a healthy glow.
3
Happy Heart Perfume
A heart-warming bouquet.
4
High Impact Curling Mascara
In Black
Coaxes lashes to their longest, boldest,
most upturned look.
5
Makeup Compact with All
About Shadow Duo
in Strawberry Fudge and
Blushing Blush Powder
Blush in Bashful Blush
A must-have combo for any
handbag this Valentines.
6
Chubby Stick Baby Tint
Moisturizing Lip Colour Balm
in Poppin' Poppy
Add a bit of colour, and a hefty
helping of moisture.
Terms and Conditions: *Yours with the purchase of any two or more Clinique products, one to be skin care, from Thursday 5 to Saturday 21 February, exclusively at Debenhams. One gift per client, while stocks last. Gift contains promotional size products.