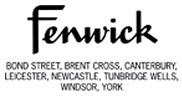 Pretty must-haves.
Your free* gift.
Available from Thursday 21 January to Saturday 6 February
exclusively at Fenwick.
Your exclusive gift includes all the skin care and makeup you'll need to keep skin looking and feeling great this season from prepping the skin to perfect eyes with our High Impact Mascara.
Find your nearest store
Your gift includes:
1
Repairwear Laser Focus
Wrinkle Correcting Eye
Cream 7ml
Smile. Now eyes get a
second chance to look young.
2
Repairwear Laser Focus
Night Line Smoothing
Cream 15ml
Helps intensify the nightly
cycle of natural repair
3
Moisture Surge
Overnight Mask 30ml
Deep moisture tonight
for a dewy
glow tomorrow
4
Take The Day Off Makeup
Remover for Lids, Lashes
and Lips 50ml
Speeds the departure of
hard-to-remove eye
and lip makeups.
5
Blushing Blush
Compact in
Pink Love 3.1g
Defining moment for cheeks
6
High Impact Mascara
in Black 3.5ml
Lusher, plusher, bolder lashes.
7
Long Last Glosswear
in Kissy Fit 2.3ml
Lip gloss juiced up
with 8 hours of
moisturizing shine.
8
Aromatics in White
Perfume Spray 4ml
There's surprising
dimension in white.
*Yours with the purchase of any two or more Clinique products, one to be skin care or foundation. Does not include treatment accessories. Gift contains promotional size items. One gift per client, while stocks last.