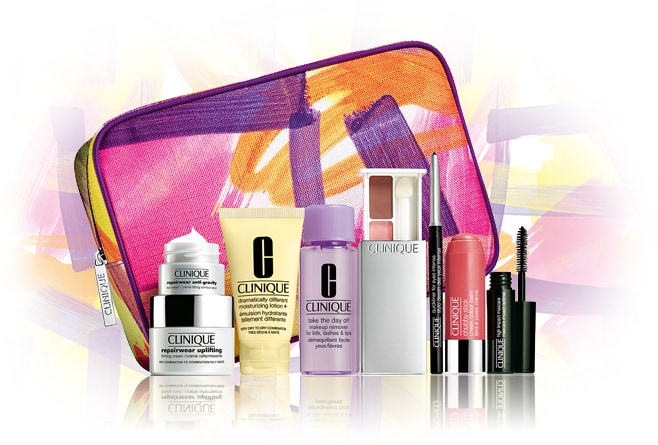 Christmas comes early.
Your free* gift.
Available from Thursday 26 November to Saturday 12 December
exclusively at Harvey Nichols.
Your gift is filled with a selection of deluxe skin care and makeup favourites to keep your skin looking flawless through the colder months.
Find your nearest store
See all other dates
Your gift includes:
1
Repairwear Anti-Gravity
Eye Cream 7ml
Smile. Now eyes get a second
chance to look young.
2
Repairwear Uplifting
Firming Cream 15ml
A light, richly moisturizing
cream that visibly tightens, lifts and
firms the face and neck.
3
Dramatically Different
Moisturizing Lotion+ 30ml
Daily moisturizer with
skin-strengthening ingredients.
Softens, smooths, improves.
4
Take The Day Off Makeup
Remover for Lids, Lashes
and Lips 50ml
Speeds the departure of
hard-to-remove eye and lip makeups.
5
All About Shadow Duo
in Strawberry Fudge 2g
Perfectly-paired shades for an
effortless eye look.
6
Quickliner for Eyes Intense in
Intense Black 1.1g
Smooth, creamy, transfer-resistant
application in rich colour.
7
Chubby Cheek
in Robust Rhubard 3g
Creamy, mistake-proof cheek colour
creates a healthy-looking glow
in an instant.
8
High Impact Mascara
in Black 3.5ml
Lusher, plusher, bolder lashes.
*Yours with the purchase of any two or more Clinique products, one to be skin care or foundation. Does not include treatment accessories. Gift contains promotional size items. One gift per client, while stocks last.