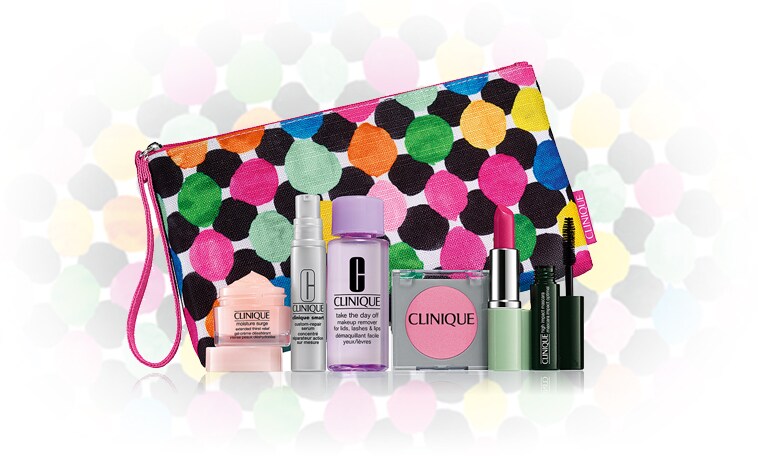 Pops of colour.
Your free* gift.
Available from Thursday 29 October to Saturday 14 November exclusively at House of Fraser.
Stand out and be different with your free gift, pops of colour!
Find your nearest store
See all other dates
Your gift includes:
1
Moisture Surge Extended
Thirst Relief 15ml
Lightweight cream-gel gives skin
an instant moisture boost.
2
Clinique Smart Custom
Serum 10ml
A serum that can change your skin's
future. Addresses the appearance of
uneven skin tone, lines and wrinkles,
firming, or radiance.
3
Take The Day Off Makeup
Remover for Lids, Lashes
and Lips 50ml
Speeds the departure of
hard-to-remove eye
and lip makeups.
4
Blushing Blush
Compact in
Pink Love 3.1g
Silky formula sweeps
effortlessly over
cheekbones to create
a natural look.
5
Long Last Soft Matte
Lipstick in Matte
Magenta 2.3ml
Add a splash of colour in a luxurious
velvety, soft matte finish.
6
High Impact Mascara
in Black 3.5ml
Lusher, plusher, bolder lashes.
Yours free**
With any third purchase receive a full-size
Moisture Surge Overnight Mask.
** One full-size Moisture Surge Overnight Mask 100ml per client, while stocks last.
Gift available in store and online at houseoffraser.co.uk.
*Yours with the purchase of any two or more Clinique products, one to be skin care or foundation. Does not include treatment accessories. Gift contains promotional size items. One gift per client, while stocks last.