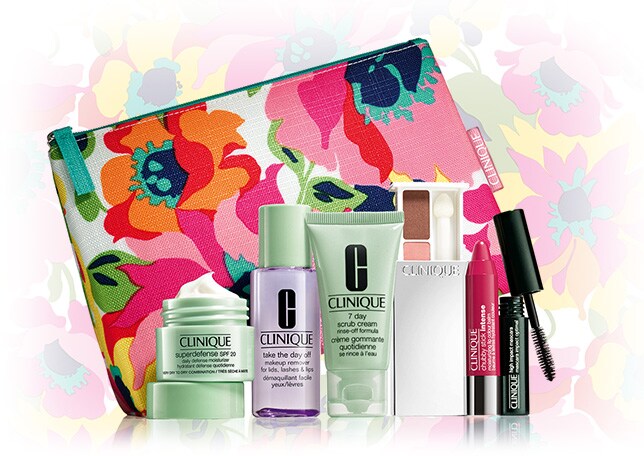 Beauty heroes.
Your free* gift.
Exclusively available at House of Fraser from Thursday 7 to Saturday 23 May
Stand out this Spring with this bright gift of skin care & beauty must-haves. All you need to prep your skin and complete your look this season.
Find your nearest store
See all other dates
Your gift includes:
1
Superdefense SPF 20
Daily Defense Moisturizer
Start your day with our most
complete daily protection.
2
Take The Day Off
Makeup Remover
Speeds the departure of
hard-to-remove eye and
lip makeups.
3
7 Day Scrub Cream
Rinse-Off Formula
De-flakes, polishes, clears pores,
refines and helps lessen fine lines.
4
All About Shadow Duo in
Strawberry Fudge
Creamy colour glides on
in one smooth stroke.
5
Chubby Stick Intense
Moisturizing Lip Colour
Balm in Plushest Punch
Add bold colour that cares for lips.
6
High Impact Mascara in Black
Longer, lusher lashes in an instant.
Yours Free**.
With any third purchase receive
a full-size Sparkle Skin Body Exfoliator.
** One Sparkle Skin Body Exfoliator per client, while stocks last. Gift available in-store and online.
Terms and Conditions: *Yours with the purchase of any two or more Clinique products, one to be skin care, from Thursday 7 to Saturday 23 May, exclusively at House of Fraser. One gift per client, while stocks last. Gift contains promotional size products.