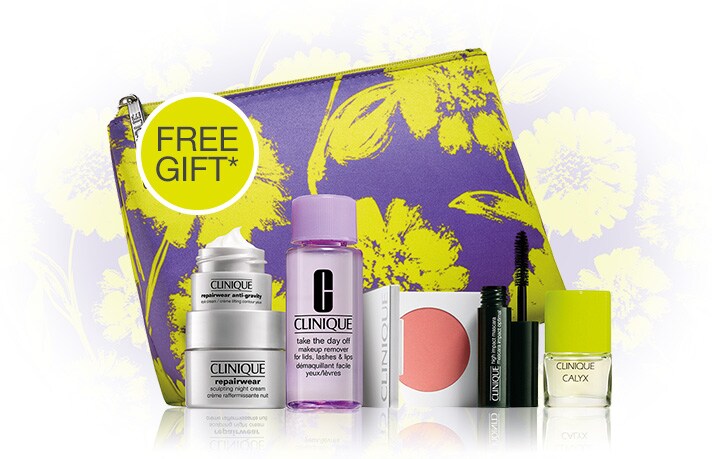 Beauty treats.
Your free* gift.
Exclusively available at John Lewis from
20 August - 5 September 2015
A selection of beauty treats in every gift, including New Repairwear Sculpting Night Cream.
Find your nearest store
See all other dates
Your gift includes:
1
Repairwear Anti-Gravity
Eye Cream 7ml
A second chance for eyes to look
young. Densely hydrating cream
helps lift and firm skin
around the eyes.
2
New Repairwear
Sculpting Night Cream 15ml
Luxurious cream-gel delivers
sculpting results. Helps define
the appearance of facial contours.
3
Take The Day Off Makeup
Remover for Lids, Lashes
and Lips 50ml
Speeds the departure of
hard-to-remove eye and lip makeups.
4
Blushing Blush Compact
in Precious Posey 3.1g
Silky formula sweeps effortlessly
over cheekbones to create
a natural look.
5
High Impact Mascara
in Black 3.5ml
Lusher, plusher, bolder lashes for
a dramatic look.
6
Clinique Calyx
Perfume Spray 4m
An exhilarating scent that is
sparkling and fresh.
*Yours with the purchase of any two or more Clinique products, one to be skin care or foundation. Does not include treatment accessories. Gift contains promotional size items. One gift per client, while stocks last.