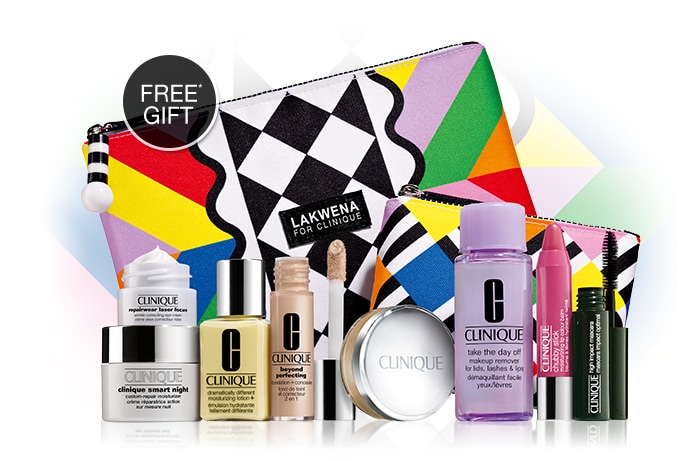 Bold and Beautiful.
Your free* gift.
Available from Thursday 19th May to Saturday 4th June exclusively at
Harvey Nichols.
Stand out with this bold and beautiful gift. Your exclusive gift is filled with a selection of deluxe skin care and makeup favourites to keep your skin looking flawless this summer.
Find your nearest store
Your gift includes:
1
Repairwear Laser Focus Wrinkle Correcting Eye Cream
Now eyes get a second chance to look young. See your entire eye area visibly improved.
2
New Clinique Smart Night Custom-Repair Moisturizer
Works all night to visibly smooth the appearance of lines and wrinkles, even skin tone, lift and hydrate.
3
Dramatically Different Moisturizing Lotion + 30ml
The big plus: Our new formula now helps strengthen skin's own moisture barrier.
4
Beyond Perfecting Foundation + Concealer
A foundation-and-concealer in one for a natural, beyond perfected look that lasts all day.
5
Blended Loose Face Powder in Invisible Blend
Loose, lightweight powder that's right for every type of skin.
6
Take the Day Off Makeup Remover for Lids, Lashes, and Lips 50ml
Two-way formula that loosens the grip, then speeds the departure of the most persistent, eye makeups, mascara and lipsticks
7
Chubby Stick Moisturizing Lip Colour Balm in Woppin' Watermelon
A lip treatment with sheer colour that relieves dry, cracked lips and provides immediate moisturisation.
8
High Impact Mascara in Black
Lusher, plusher, bolder lashes.
*Yours with the purchase of any two or more Clinique products, one to be skin care or foundation. Alternatively, with the purchase of a single Sonic System Purifying Cleansing Brush. Does not include treatment accessories. Gift contains promotional size items. One gift per client, while stocks last.