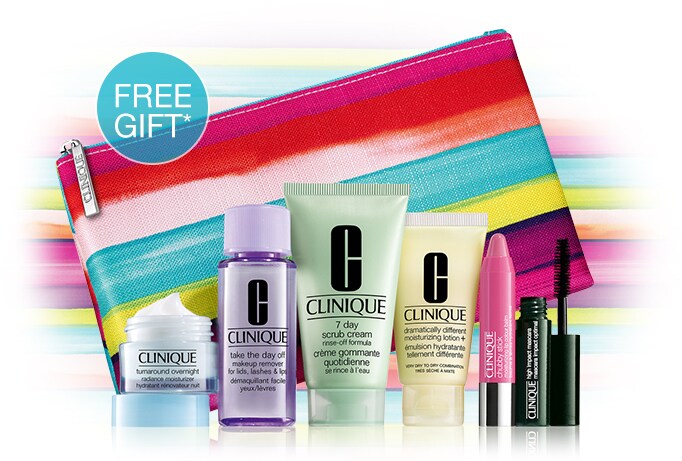 Your free* gift
Available from Saturday 28th May to Sunday 12th June available at selected stores only.
Your Clinique Summer Collection.
Visit the Clinique counter today and let us treat you to a luxury free* gift filled with deluxe-sized Clinique favourites chosen especially for you.
Find your nearest store
Your gift includes:
1
Turnaround Overnight Revitalizing Moisturizer
Delivers the energy infusion skin needs to optimize nighttime renewal.
2
Take the Day Off Makeup remover for Lids, Lashes, and Lips
Speeds the departure of hard-to-remove eye and lip makeups.
3
7 Day Scrub Cream Rinse-Off Formula
De-flakes, polishes, clears pores, refines and helps lessen fine lines.
4
Dramatically Different Moisturizing Lotion +
The big plus: Our new formula now helps strengthen skin's own moisture barrier.
5
Chubby Stick Moisturizing Lip Colour Balm in Whoppin Watermelon
A lip treatment with sheer colour that relieves dry, cracked lips and provides immediate moisturisation.
6
High Impact Mascara in Black
Lusher, plusher, bolder lashes.
*Yours with the purchase of any two or more Clinique products, one to be skin care or foundation. Alternatively, with the purchase of a single Sonic System Purifying Cleansing Brush. Does not include treatment accessories. Gift contains promotional size items. One gift per client, while stocks last. Available at selected stores only. Gift qualifier may vary across retailers. Call your local Clinique store to find out more.