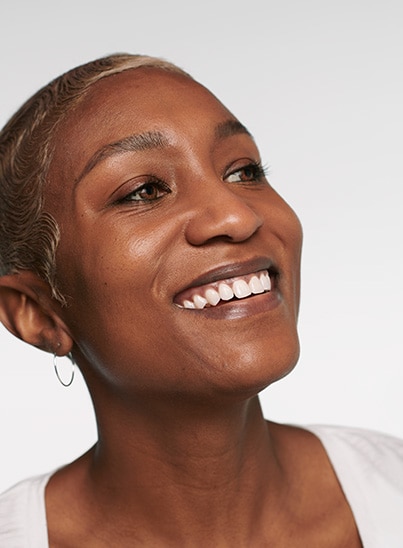 The anti-ageing skincare routine you need.
To really target signs of ageing, you're going to need a round-the-clock approach. Your morning skincare routine should be all about protection and prevention, as throughout the day your skin is exposed to environmental factors which can damage the skin and lead to signs of premature ageing. At night, on the other hand, it's time to reset and recharge your skin, with a night skincare routine that focuses on hydration, nourishment and repair while you sleep.

But don't worry – we're not saying you need two entirely different skincare routines. In fact, it's quite the opposite, as there are a few Clinique heroes that are even more effective when used twice a day.

With that in mind, we've put together our step-by-step morning and night skincare routines for mature skin, powered by anti-ageing ingredients like retinoids, peptides and vitamin C. Whether you're working with deeper wrinkles or are just noticing a few fine lines, these anti-ageing skincare routines will help you unlock smoother, plumper and younger-looking skin. Compliments, incoming.
The best morning anti-ageing skincare routine.

Step 1: Cleanse.

A lot of people think they don't have to wash their face in the morning because they just did it at night, but it's actually a really important step in your morning skincare routine. While you sleep, your pillowcase can accumulate oils from your face and hair, as well as bacteria and dust, so it's important to kickstart your daily skincare routine with an effective, refreshing cleanse. It's best to pick a cleanser that's tailored to your skin type – we offer cleansers for oily skin, cleansers for dry skin, cleansers for blemish-prone skin and more, so you're bound to find one that's ideal for you. If you're looking for a more active, targeted cleanser for mature skin, try our Fresh Pressed Renewing Powder Cleanser with Pure Vitamin C. This ultrafine vitamin C powder activates with water to instantly brighten, purify and refine the texture of your skin. Use it every 3-4 days, alternating with a cream, foam or liquid cleanser of your choice.
Step 2: Gently exfoliate.

Exfoliating in the morning is essential. It removes dead skin cells that can dull the surface of the skin, promotes cell renewal, and helps smooth and prep skin for makeup. You'll need something gentle like our iconic Clarifying Lotion Twice A Day Exfoliator – a liquid exfoliator you can use twice a day, every day without stripping or irritating the skin. It comes in five formulas for specific skin types, including a super gentle exfoliator for sensitive skin, and it's so quick and easy to use; just dampen a cotton ball and sweep it over your skin – no rinsing required.
Step 3: Treat + moisturise.

Retinoids are a family of ingredients (including retinol) derived from vitamin A, and they're a key step in targeting the look of lines and wrinkles, both in your morning and night skincare routines. Our bestselling Clinique Smart Clinical Repair™ Wrinkle Correcting Serum is powered by a potent retinoid, alongside hyaluronic acid and peptides, to help resurface, re-plump and renew the appearance of lines and wrinkles. The retinoid used is effective but gentle enough to use twice a day, which makes it a great retinoid for beginners. Next, apply up with a peptide-rich anti-ageing eye cream such as Clinique Smart Clinical Repair™ Wrinkle-Correcting Eye Cream. During the day, make sure you protect your skin with SPF, especially after using a formula with retinoids, as this can make the skin more sensitive to sun damage. Try Clinique Smart™ SPF 15 Custom Moisturiser, which not only targets the signs of ageing but also protects from skin-damaging rays with UVA/UVB protection. If you prefer a higher SPF, follow your moisturiser of choice with Superdefense™ City Block SPF 50 Daily Energy + Face Protector.
The best night skincare routine for anti-ageing.

Step 1: Remove makeup + double cleanse.

If you wear makeup, especially eye makeup and foundation, you should follow a double cleansing routine. As part of your night skincare routine, always use an effective makeup remover first to ensure a thorough cleanse. Our #1 makeup remover, Take The Day Off™ Cleansing Balm is a silky balm-to-oil formula that effortlessly dissolves long-wearing makeup, even waterproof mascara. We've also just launched a NEW detoxifying charcoal cleansing balm, which is the ideal makeup remover for oily skin. After removing the balm with warm water or a damp muslin cloth, wash your face with a gentle liquid, foam or cream cleanser. With your makeup out of the way, your cleanser can go deeper to purify skin and give it a better clean.
Step 2: Exfoliate.

Exfoliating is even more important at night because you're not only removing dull, dead skin cells, but you're also paving the way for better absorption of the treatment products you apply next. Simply apply the same Clarifying Lotion Twice A Day Exfoliator you used in the morning – yes, it's gentle enough to use twice a day.
Step 3: Treat + moisturise.

Time for our anti-ageing powerhouse – Clinique Smart Clinical Repair™ Wrinkle Correcting Serum – to work its magic (again). Combining the renewing benefits of a potent retinoid with plumping hyaluronic acid and rejuvenating peptides, it's a gentle yet effective wrinkle treatment formulated for maximum results without the irritation often associated with actives like retinol. Next, follow up with an anti-ageing eye cream such as Clinique Smart Clinical Repair™ Wrinkle-Correcting Eye Cream. Using your ring finger, gently massage this hydrating eye cream all around the eye area. The peptide-rich formula strengthens and hydrates the delicate skin around the eyes, reducing the look of lines and wrinkles​ with 85% saying crow's feet look reduced.*​ Finally, apply a rich night cream for mature skin like Clinique Smart Clinical Repair™ Wrinkle Correcting Cream, which is formulated with hyaluronic acid and peptides to fortify and nourish for younger-looking skin. It also comes in a rich cream formula with shea butter for drier skin types.
*Consumer testing after 4 weeks on 150 women.​
Need more help mastering your morning and night skincare routine? Our Consultants are here to help. Book in for a complimentary 1:1 Skin School consultation to discuss your routine with one of the team. For more anti-ageing skincare tips, read our guide to the best neck creams.