Whether you've taken one of her classes or scrolled through her Instagram, it doesn't take long to figure out that Kirsty Godso is a major triple threat. Not only is the New Zealand born beauty a globetrotting Master Trainer, she's also a savvy entrepreneur (with several top secret projects in the works), and a social media maven.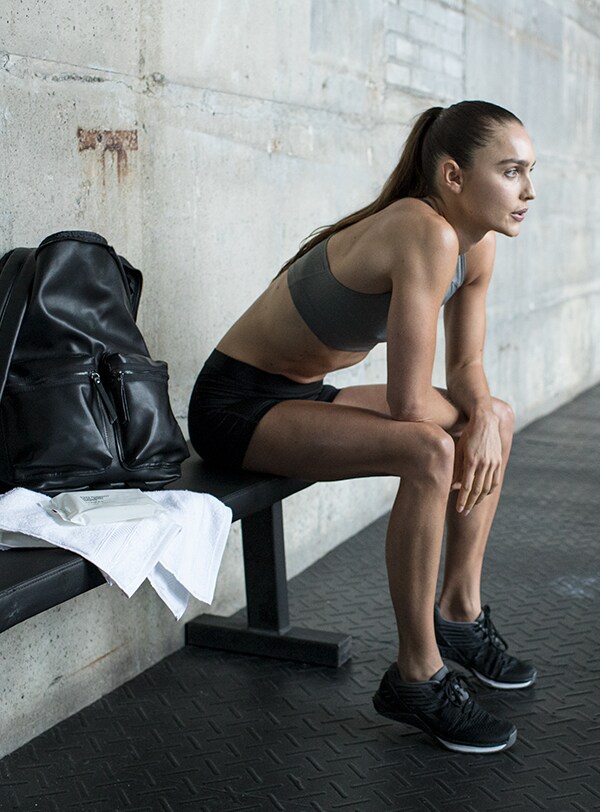 Needless to say, there's no such thing as downtime in Kirsty's warp speed world. That's why we asked her to road test CliniqueFIT, skin care and makeup essentials designed to move with you and outlast whatever life throws your way, whether you're an elite athlete or squeezing a workout into your jam-packed daily schedule.
The Wink: What's your morning beauty routine?
Kirsty Godso: I'm always pressed for time, but make sure I cleanse and do my lashes. It's so important to have a good mascara like CliniqueFIT Workout 24-Hour Mascara that I can trust is not going to drip down into my eyes while I'm sweating. I also have very sensitive eyes, so I don't want to rub them a lot to remove my mascara. I love that this one comes right off with just warm water.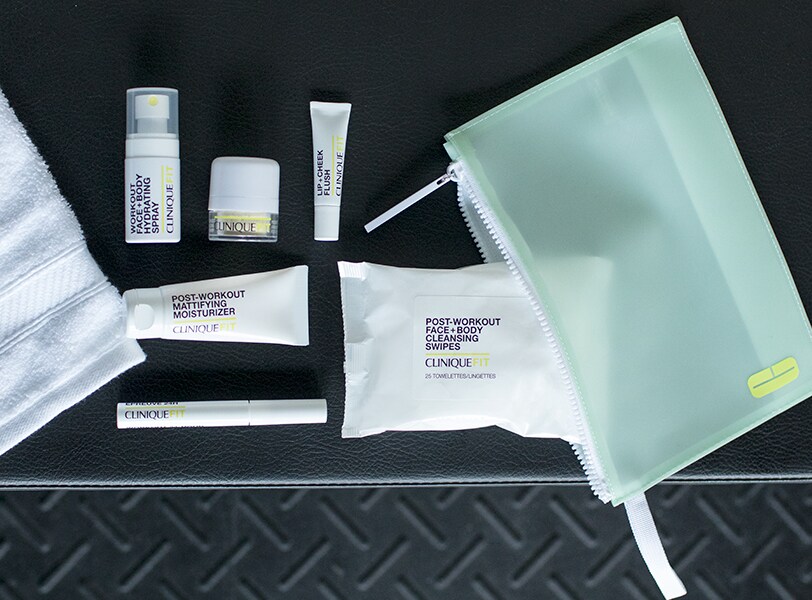 TW: What do you love most about CliniqueFIT?
KG: It's everything you need, nothing that you don't, and it's so quick and easy to apply. I love simple, smart beauty products with instant results. I don't want to spend a lot of time applying makeup, but I do want to look fresh. It's also important that whatever makeup I'm wearing is good for my skin. I don't look after my body as much as I do just to put something on it that's not good for it, you know? Because it's Clinique, I know everything will be healthy for my skin.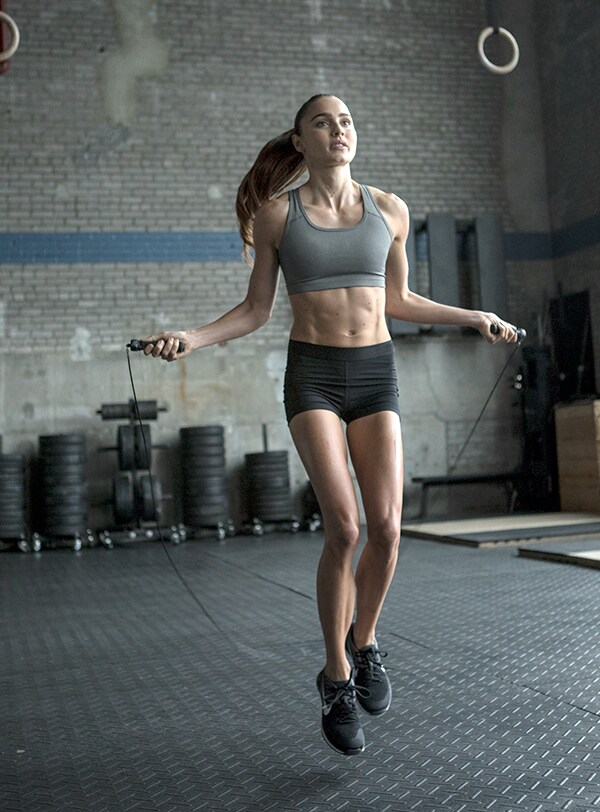 TW:  What's your biggest skin concern when you're working out?
KG: Keeping a fresh glow throughout the whole day. I teach my first class at 7A.M., then it's non-stop training clients until my last class in the evening. All that can really dull my glow! I can't believe how quickly the CliniqueFIT Lip + Cheek Flush goes on, and how beautifully it tints both my lips and cheeks.  The CliniqeuFIT Post-Workout Mattifying Moisturizer is also great for making your skin look and feel healthy and fresh.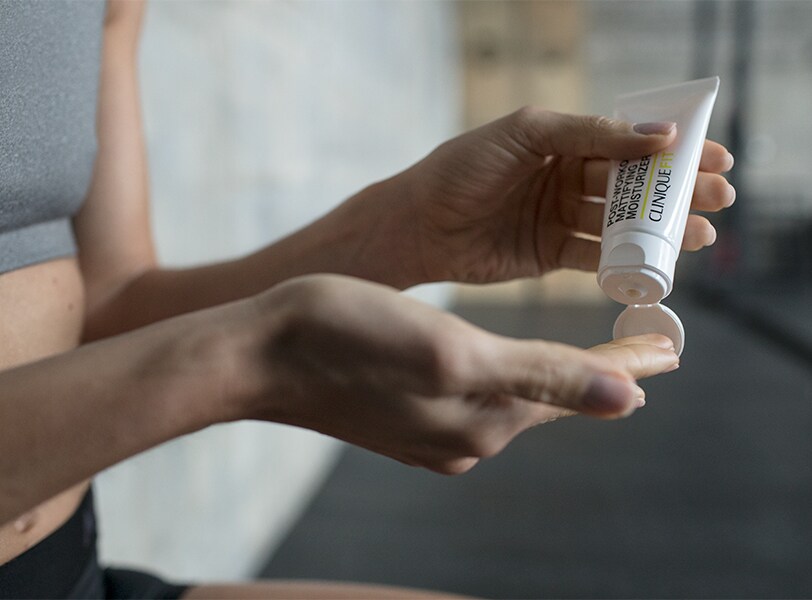 TW: How do you take care of your skin throughout the day?
KG: Clean skin is my #1 priority. If I don't clean and rehydrate my face after a workout, I'll start to see little blemishes pop up. That's why I always keep a good face wipe in my gym bag.  I'm really loving the CliniqueFIT Post-Workout Face + Body Cleansing Swipes because they actually take everything off and don't irritate my sensitive skin. Plus, I love that I can use them on my body too for a quick refresh between workouts.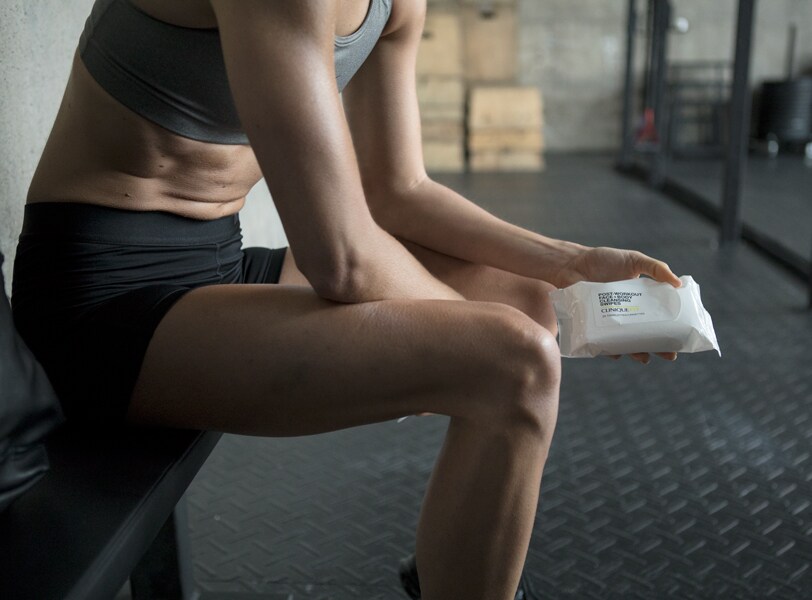 TW: Since you grew up in New Zealand, you must be good about sunscreen?
KG: Absolutely. I love the beach, and I tan really easily, so I'm religious about sunscreen application from head to toe. And SPF is not just for the summer. I wear it every single day, year round. CliniqueFIT Workout Makeup Broad Spectrum SPF 40 makes it easy to ensure I'm always covered. Because it already has SPF in it, I love that I don't have to spend any extra time applying multiple products.
Video & Still Photography: Co.Lab | Words: Rachel Hayes | Hair: Tomi Kono | Makeup: Tobi Henney