Sunday blues? Not for Amelia Liana. "My Sunday pamper routine is my favourite time of the week," says the fashion, beauty and travel blogger. Amelia seizes the final moments of every weekend to replenish her skin and prep it for the week ahead. Here, she shares her go-tos for a restored and revitalised complexion that will help you take on Mondays with a happy face.
Step 1: Wash away the weekend.
Amelia's favourite cleanser, Take the Day Off Cleansing Balm, transforms into a lightweight oil that deep-cleans your skin, quickly dissolving the most stubborn long-wearing makeup, sunscreen, pollution and grime. "You can use it on your eyes, your lips—it will take off everything! And I mean everything—foundation, eyeshadow, mascara. It's a one-product wonder," says Amelia.
Step 2: Purify for the week ahead.
On Sundays, Amelia always does a face mask. One of her favourites: Pep-Start Double Bubble Purifying Mask, which washes away pore-clogging dirt and impurities in two super-effective minutes. "It's the quickest, easiest mask," she raves. "When you squeeze it out of the tube, it's bright pink. And when you work it into your skin, it starts bubbling. Wash it off, and your skin is so much clearer and fresher."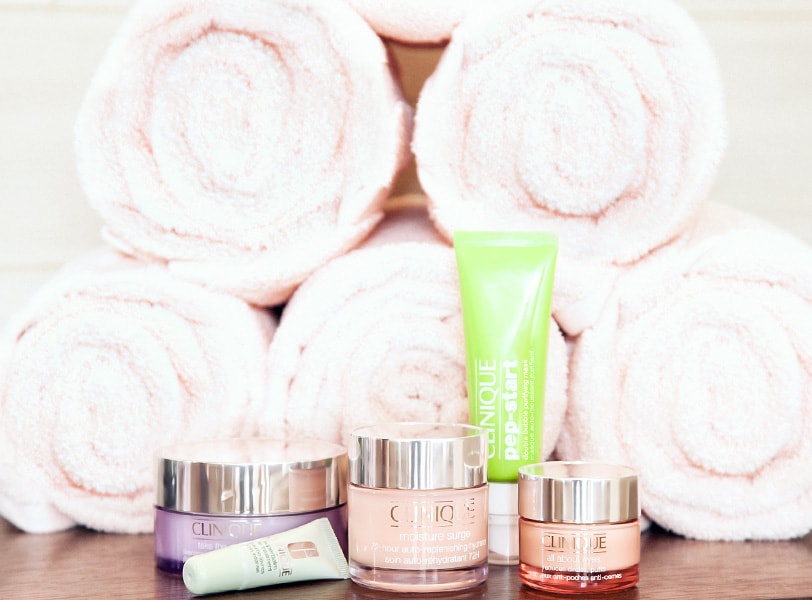 Step 3: Revive tired eyes.
To reduce the appearance of puffiness and minimise the look of undereye circles, Amelia uses All About Eyes. "I use my ring finger to apply just a tiny bit. The skin under your eyes is quite fine, so you don't want to rub or tug. You just dab, dab, dab. It's a great all-in-one eye cream," she says. "Everything looks so much better."

Step 4: Get some heavenly hydration.
For Amelia, the star of the show is a light, super hydrating gel moisturiser: Moisture Surge 72-Hour Auto-Replenishing Hydrator. "It helps your skin create and retain moisture for 72 hours, so even after you wash your face, your skin keeps hydrating itself. I don't know how they do it—but it's absolutely amazing," she says.

Step 5: Pamper your pout.
Her last step is for lips, whether they need serious S.O.S. or could simply use a boost of satin-y moisture. "I like Superbalm Lip Treatment because it is really thick and super nourishing. If you have dry lips, or you just want your lips to look really plump and hydrated, apply a thick layer of this overnight," says Amelia. "The next morning your lips will look brand new."
Photos: Erik Tanner | Video: Tinklevision | Words: Mari Tzikas Suarez