It's an age-old question: If you were stuck on a desert island, which beauty products would you want with you? Chances are, mascara is one of them. It's one of the quickest ways to liven up your look—just two coats and eyes look wide-awake.

High Impact Lash Elevating Mascara would be our pick for the survives-anything situation. It curls and lifts your lashes, and keeps them that way for 12 hours, without smudging, flaking, or clumping.
But the staying power you love in a long-wearing mascara is also what can make it harder to take off at the end of the day—unless you have the right tools and techniques. "It's not that long-wearing mascara is difficult to remove," says John Miller, a makeup artist and Director of Clinique Global Education Development. "It just requires a specific removal process." His secret weapon: Take The Day Off Makeup Remover For Lids, Lashes & Lips. The dual-phase formula is tough on makeup, yet gentle on the delicate eye area.

Here's how to remove long-wearing mascara swiftly and safely: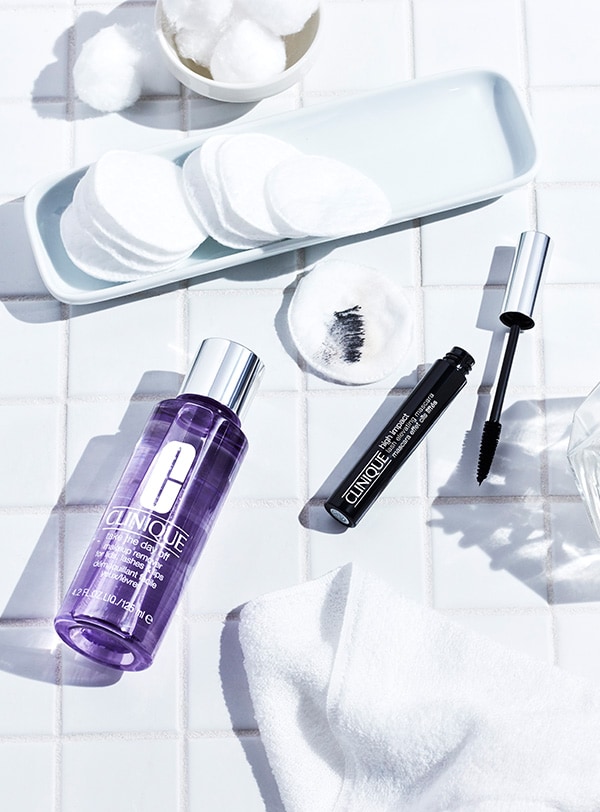 Step 1: Shake it up.
Shake to combine the dual-phase formula of Take The Day Off Makeup Remover For Lids, Lashes & Lips, then saturate a cotton pad. One part of the solution breaks down the makeup, while the other part acts as a rinse to whisk it all away.
Step 2: Press and hold for 10 seconds.
Don't rub and tug at your lashes to get the mascara off, which can damage and irritate the delicate skin around your eyes. Instead, hold the saturated cotton wool over your eyes for at least 10 seconds to give the remover enough time to fully break down and dissolve the mascara.
Step 3: Sweep it all away.
One common mistake is to only apply makeup remover over closed eyelids, which means you're only reaching the tops of your lashes. Don't forget to also sweep the makeup remover up through the underside of your lashes too.
Step 4: Do a touch test.
To make sure you've removed all your mascara, gently run your fingers over your lashes. If you feel any roughness still on the lashes, you need to go back with more remover. Don't be hesitant to use more than one cotton pad to make sure you really get it all off.
Photos: Mosspark | Words: Julie Redfern