Foundation—many women have a love/hate relationship with it. Love the potential for creating the appearance of even-toned, blemish-free, flawless skin. Hate that it can be so tricky to actually look like you aren't wearing anything at all. That's why you need a multi-pronged strategy to achieve a natural-looking base.
First, you must find the perfect foundation match. Our Virtual Try On service makes choosing a foundation online easy. Simply select your formula, then scan the QR code on your mobile to find your shade match. If you're looking for a soft-focus finish, try Even Better Clinical™ Serum Foundation SPF20 which combines the skin-perfecting benefits of a foundation with the power of a serum. The weightless liquid delivers buildable 24-hour coverage with a satin matte finish, while supercharged ingredients like vitamin C and hyaluronic acid improve the appearance of skin over time. For lighter coverage with a natural finish, consider Even Better Makeup SPF15, which smooths and evens out skin tone for up to 24 hours.
Next, you must know how to apply foundation flawlessly. We've got you covered – here are all the application tips you need to achieve complexion perfection.
1. Start with a clean canvas.
Your foundation will only look as good as the skin underneath, so maintaining a consistent skin care routine is key. Right before applying foundation, it's important to cleanse your skin to help prevent clogged pores and remove any dirt that may be dulling your natural radiance. Next, use a liquid exfoliator, such as Clarifying Lotion, to sweep away any dry, dead skin cells that may cause foundation to settle or look flaky. Finally, apply your go-to Clinique moisturiser – foundation sinks best into hydrated skin, so something light but ultra-hydrating like Moisture Surge™is perfect. If you need a little help creating your skincare routine, book a 1:1 virtual appointment with one of our Consultants here.
2. Take the time to prime.
A primer may add an additional step to your makeup routine, but it will ensure that your foundation looks flawless because it turns your skin into a perfectly smooth surface. Depending on your skin type and desired effect, take your pick from two NEW silicone-free Even Better™ primers: Even Better™ Light Reflecting Primer illuminates and hydrates skin for a radiant, lit-from-within finish, while Even Better™ Pore Defying Primer blurs pores, reduces oil and locks in makeup for fresh, flawless wear. If you need help choosing your perfect primer, read our expert guide: what is makeup primer and how to apply it.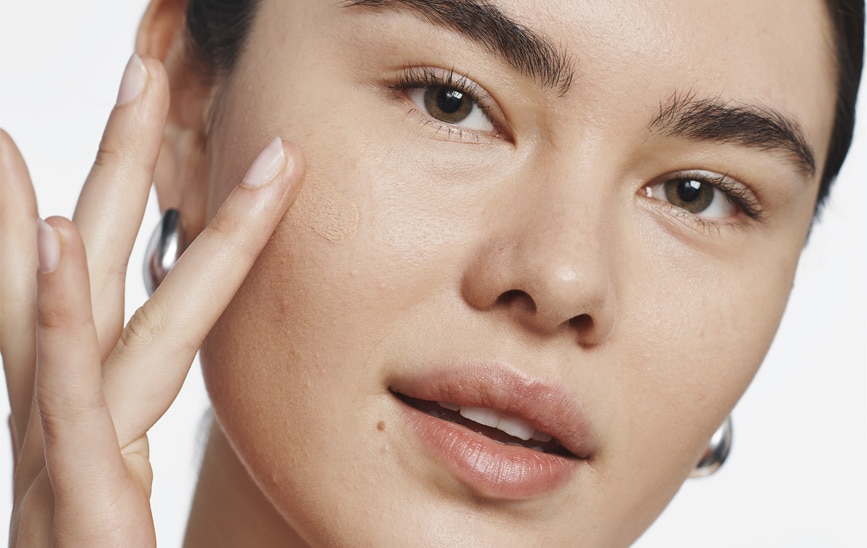 3. Less is more.
Always start by applying just a little bit of foundation, then add more until you have the right amount of coverage. The goal is to only apply foundation where you need it, so that your skin still looks like skin. And let's face it: there's nothing worse than having a face caked in foundation. (Hint: If you need to apply foundation all over your face for it to look even, then you're using the wrong shade.)
4. Work from the inside out.
Concentrate the foundation in the centre of your face where redness and blemishes tend to be more problematic. Apply just a dab of foundation on each side of your nose, and in the centre of your forehead and chin, then blend outward. "After it is all blended in, pinpoint any other areas of the face where blemishes are visible and apply an additional light layer of foundation in those specific areas," advises celebrity makeup artist Florrie White.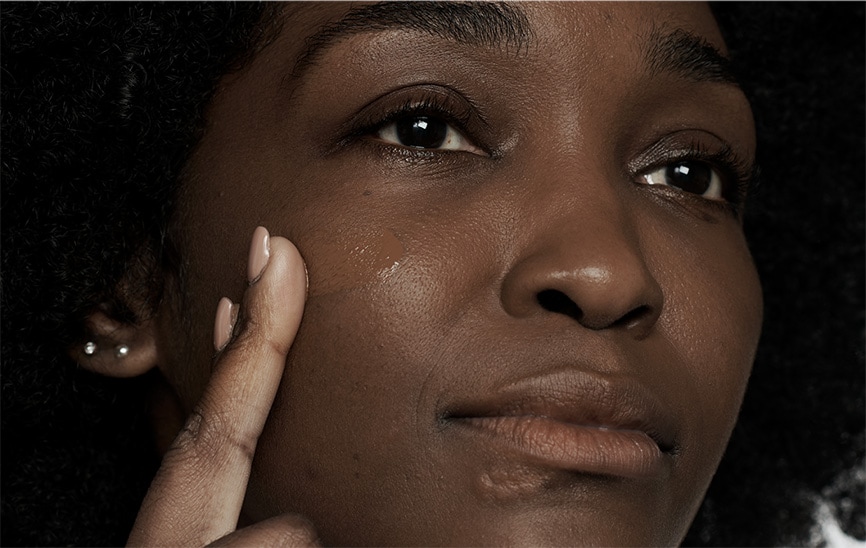 5. Stipple, don't paint.
Whether you're using our Foundation Buff Brush or your fingertips, apply foundation in a stippling motion, which means gently tapping it into your skin. Avoid any wiping or rubbing motions because that will only push the foundation around and cause streaks. "I like to press foundation gently into the skin. The warmth of the fingertips helps to make the skin and foundation melt together and appear as one," says Florrie.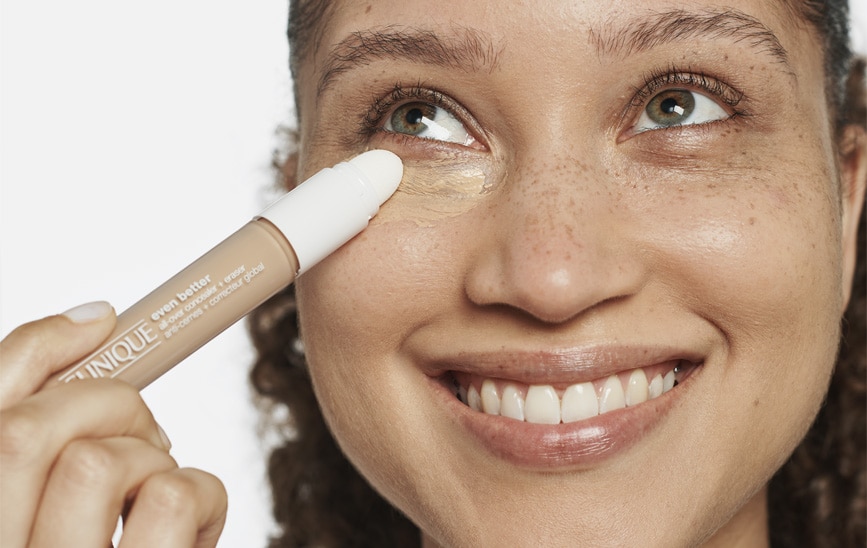 6. Blend, blend,blend.
Provided you're wearing the right shade of foundation, harsh foundation lines shouldn't be a major issue. That said, to avoid a mask-like effect, it's a good idea to gently buff the edges out towards the hairline, jaw and a little under the chin to diffuse the colour, creating a natural, seamless finish.
7. Touch up with concealer where needed.
If there are any areas where foundation simply wasn't enough, such as dark undereye circles or blemishes, dab a little concealer over them, then tap it into your skin to blend seamlessly without rubbing your foundation away. A good one: Even Better™ All-Over Concealer + Eraser is a lightweight, full-coverage formula with vitamin C, hyaluronic acid, and caffeine to energise, brighten and re-plump. It also features a built-in blurring sponge for a smooth, barely-there finish.
8. Set it and forget it.
Most people associate powder with a matte, cakey look, but dusting a silky loose setting powder, like Blended Loose Powder, over your foundation will ensure it won't budge without dulling its finish. Dip a large, fluffy powder brush into the powder, then tap or shake your brush once to remove any excess – you should be able to see the bristles through the powder. Lightly sweep it across your face, using a heavier hand on areas that tend to get shiny, like your T-zone, chin and undereyes, if necessary.