Makeup trends come and go, but there's no denying that natural makeup is always in. That said, "no makeup makeup" shouldn't mean boring or bland. With today's newest makeup textures, skin-loving formulas and effortless applications, looking pared down yet polished can easily be glamorous.

Case in point: London-based TV producer-turned-beauty-blogger Ellie Adams' glowing bronzed skin and full-volume glossy lips, created by Clinique Colour Pro Florrie White. The essentials: a handful of trusted Chubby sticks, the ultimate no-mirror-required must-haves that make effortless beauty truly effortless. The star of the show? Chubby Plump & Shine Liquid Lip Plumping Gloss, a moisturising high-shine gloss that instantly makes lips look fuller, smoother and more plumped. And, because it's allergy tested and fragrance free, it won't sting or irritate your lips. "When you're not wearing a lot of makeup, a light-catching glossy lip immediately elevates your look," Florrie says. "It's like adding a hint of casual luxury to your makeup."

Read on for Florrie's step-by-step:

Start with flawless—and glowing—skin.
To create a healthy, hydrated glow, Florrie pressed Moisture Surge Extended Thirst Relief into Ellie's skin, then applied Superbalanced Silk Makeup in Silk Sahara only where needed. "This foundation instantly perfects, but the lightweight formula allows her skin to shine through," says Florrie.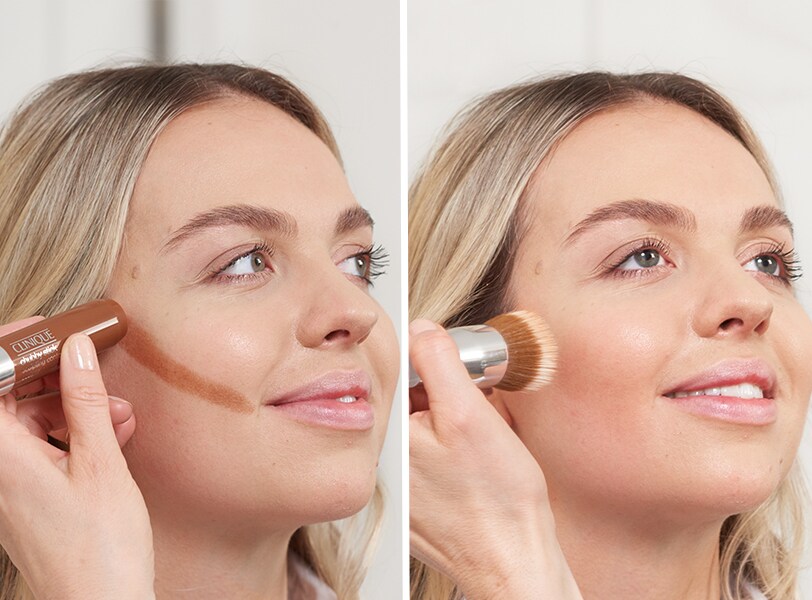 Sculpt skin in 60 seconds.
"Contouring doesn't have to be daunting. You just need to get the right pigment placement and use a good blending technique," says Florrie.
First, she ran Chubby Stick Sculpting Contour under Ellie's cheekbone, starting at ear level and going all the way down towards the corner of her mouth. "Ease off the pressure as you go, so the pigment is more intense in the hollow of your cheek, then gradually fades," she advises. Next, Florrie blended using a Foundation Buff Brush, sweeping up towards the hairline instead of going back and forth. "This ensures you don't end up with 'muddy' patches and also helps to lift the face," says Florrie.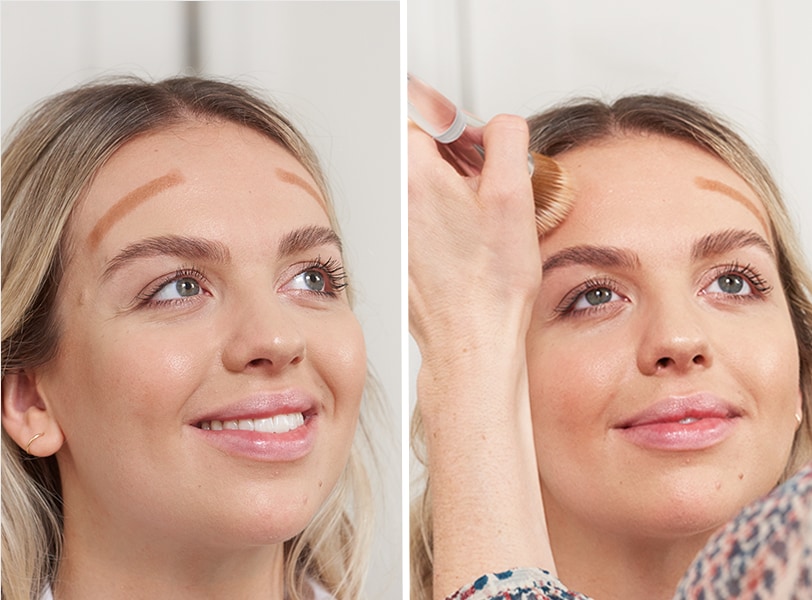 "I'll also run the contour stick along the forehead, from the temple area to about the inner corner of the brow, which refines your bone structure." Again, Florrie blended in one direction.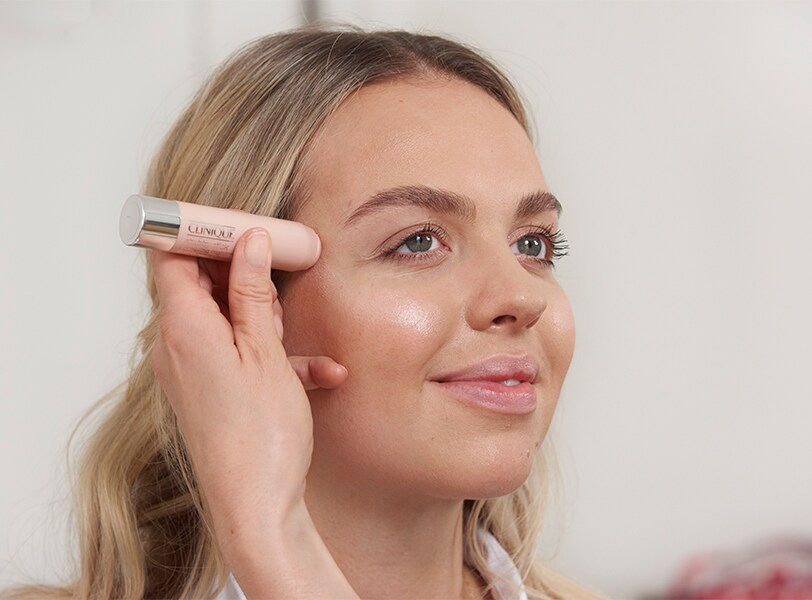 Next, Florrie applied Chubby Stick Sculpting Highlight in one quick swipe, from the apples of Ellie's cheeks, along her cheekbones and around her temples, then blended. "The highlight makes your cheekbones really pop," says Florrie. Don't forget to blend: "Contour and highlight are your secret weapons—you don't want them to sit on top of your skin and reveal themselves!"
Work a luxe flush.
To amp up the glow from the highlighter, Florrie swept Cheek Pop in Melon Pop onto Ellie's cheeks. "It has lovely, peachy warmth that creates a natural-looking bronzing effect," she says.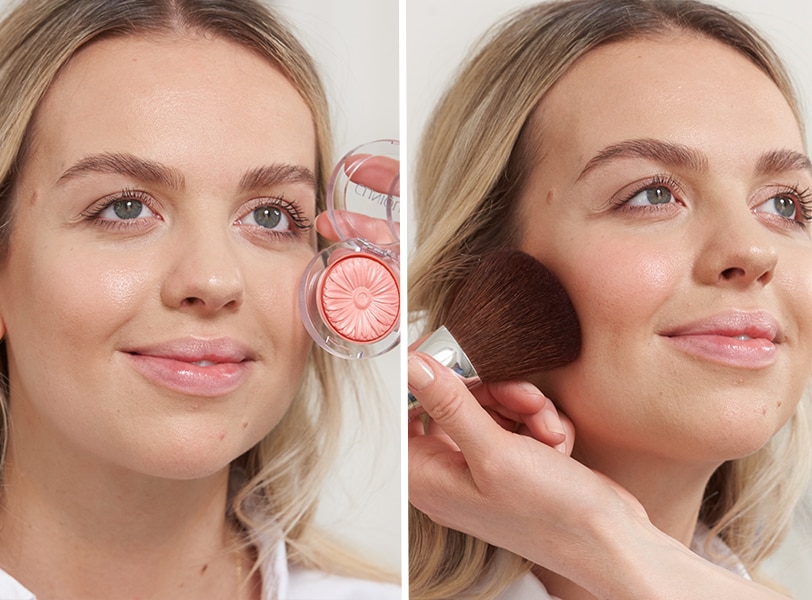 To apply, Florrie opted for a large Bronzer Brush. "It's slightly curved, so picks up more product in the center of the brush," says Florrie. She dusted the blush lightly over the apples of Ellie's cheeks and built up the color intensity in sheer layers. 
Plump up and shine.
To create a shiny, pouty lip look, Florrie chose Chubby Plump & Shine Liquid Lip Plumping Gloss in Jumbo Jem, a pretty, natural pink.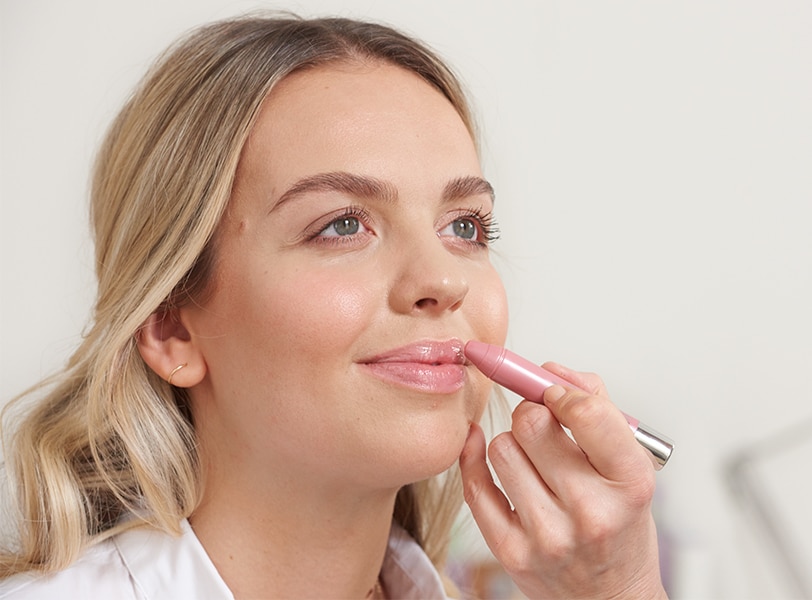 She skipped lip liner, and applied it straight from the tube. "The slanted tip applicator gives you such great control, and allows you to get right into the Cupid's bow to define and enhance your lip shape," explains Florrie. To finish, she added a touch more gloss to the center of Ellie's lips.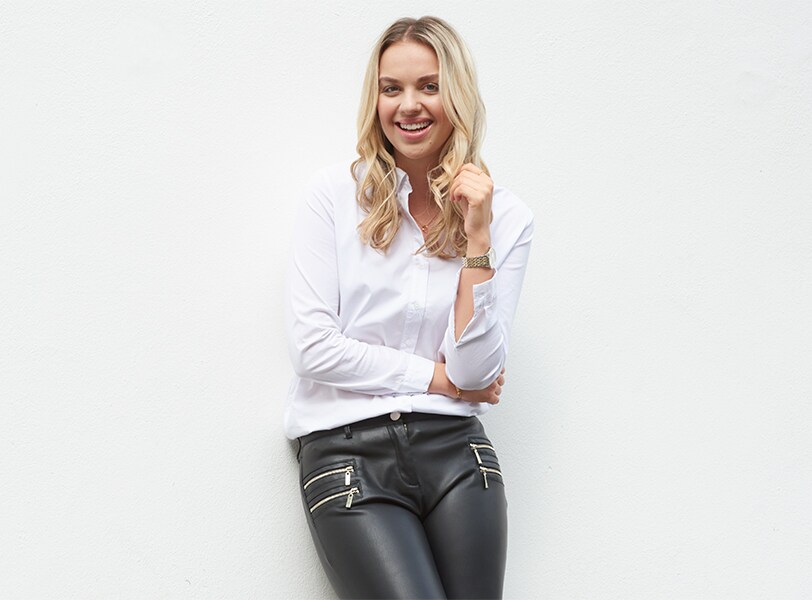 "I absolutely love this look!" says Ellie. "It's an upgraded take on my everyday makeup. Fresh and healthy with a polished edge."
Photos: Benjamin Madgwick | Words: Ashleigh McMorran | Hair: Jess Gartland for Bumble and bumble | Shot on Location: Artist Residence London