I used to be a serial dater when it came to skin care—oil cleanser one night, abrasive scrubs the next, face masks three times a week. You'd think that would all add up to a killer #nomakeup selfie, right? Wrong. I got blemishes in places I didn't even know you could break out and my skin was red and irritated all the time.
Today, my skin is the best it's ever been and here's why. When I started my job as the Assistant Editor of The Wink, I, like all Clinique employees, attended an in-depth seminar where I learned a lot about skin and the history of Clinique and was given the iconic 3-Step Skin Care System to try. (Cool job, right? And yes, everyone at this office has insanely good skin.)
Forced to clear out the clutter from my medicine cabinet, I fully committed to my new simple
3-Step routine twice a day, every day. Here's what I learned on my journey—and how you can get great skin too.
It all starts with understanding your skin type.
By far, the biggest mistake in my old skin care habits was using products that weren't suited for my skin type. Clinique's founding dermatologist, Dr. Norman Orentreich, identified four skin types when formulating the 3-Step System: Very Dry to Dry (Skin Type 1), Dry Combination (Skin Type 2), Combination Oily (Skin Type 3) and Oily (Skin Type 4). For most of my life, I always thought I had very dry skin because I (really) love moisturiser and occasionally have dry spots on my cheeks. With one simple question, my advising Clinique Consultant proved just how wrong I was: By midday, how does your skin feel without moisturiser? My answer: Comfortable. That put me squarely in the Combination Oily skin type. If I truly had dry skin, my answer would have been "uncomfortable and tight all over." Once I started using the 3-Step regime for Skin Type 3, my skin finally stopped freaking out.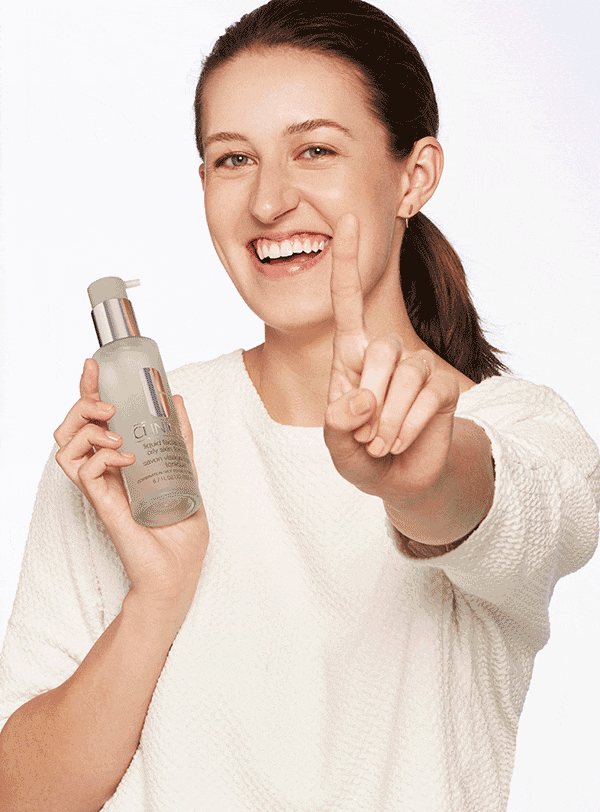 Great skin starts with clean skin.
100% clean skin is the foundation of a stellar skin care routine. I was taught the double cleansing method, which is simply removing your makeup first, then using a gentle face wash. Liquid Facial Soap is designed to remove dirt and oil and raise the pH level of your skin. It rinses off easily, is non-stripping and doesn't leave behind any residue, so my skin never feels dry or taut. I use Liquid Facial Soap Oily Skin Formula, which minimises any surface oil immediately and over time by regulating sebum production. After cleansing, my skin was so comfortable, I didn't even feel like I needed moisturiser. That's a good sign that you're using the right formula.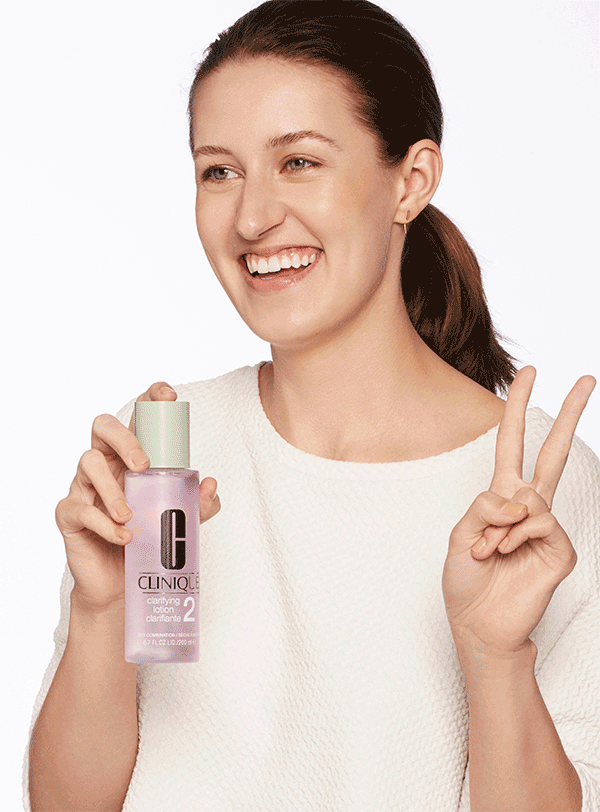 Gentle, daily exfoliation is the secret to healthy skin.
Did you know that healthy skin naturally renews itself every 28-30 days? And more often than not, it could use help keeping up with that pace, especially as we age. Exfoliating on a regular basis helps to increase cell turnover and reveal newer, better-looking skin.
"Exfoliation is like exercise; it's safer to follow a custom fit, moderate program on a regular basis, than to overdo it randomly," says Clinique guiding dermatologist Dr. David Orentreich. "It's better to exfoliate twice a day using mild or moderate exfoliation than to exfoliate once a week with an extremely harsh process." That's the point of Clarifying Lotion, which was created to be used twice a day to gently sweep away dead surface cells that make skin look dull, rough and flaky, keeping blemishes at bay without any irritation or drying. There's a Clarifying Lotion for all four skin types, the difference among them being the strength of the exfoliation.
When I used Clarifying Lotion for the first time, I noticed an immediate glow factor. That's because it has a very low pH level and when used after the cleanser, which has a high pH, this gentle, rapid shift in pH levels revs up your skin. This also triggered a light bulb moment for me: It's not about the sheer number of products you use, but how they all work as a complete regime. Each step in 3-Step is specially formulated to optimise one another—and the best results happen when you use them all together.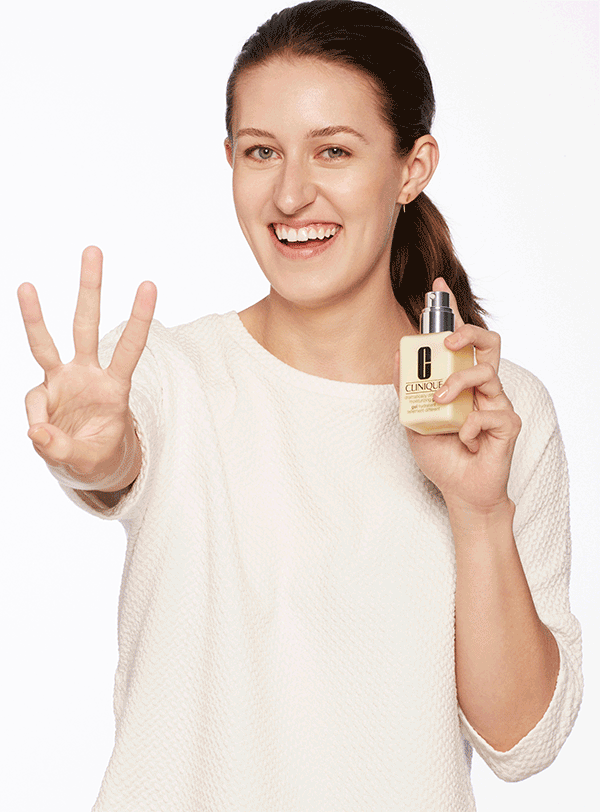 Combination and oily skin types need moisturiser too.
Just because I have combination oily skin, doesn't mean I should put away my moisturisers. Oily skin can actually over produce sebum if it gets dehydrated because it'll try to create more moisture for itself and kick into overdrive. The right, oil-free moisturiser should help control oil and keep skin happy and hydrated, not hyper-reactive.
All of the Dramatically Different Moisturizers restore lost moisture by duplicating the exact oil and water balance that naturally occurs in healthy skin so you receive the perfect amount of both. It also helps strengthen your skin's moisture barrier for better moisture retention and all around plumpness. I use the oil-free gel formula that is so lightweight and non-greasy it absorbs instantly—the perfect makeup prep step.
My magic moment.
While I noticed a boosted glow in my skin on the first day of starting 3-Step, after 10 days other people started to notice it too. My blemishes disappeared, my blackheads became barely noticeable, any flakiness and redness dissipated and best of all, my skin was glowing. I didn't even need (or want!) to wear foundation.
Plus, my new no-brainer routine meant I could ditch the decision fatigue and get through my routine in 3 minutes or less and onto other things (like taking charge of my career). Win, win.
Want to try your own 3-Step customised to your skin type? Visit your nearest Clinique counter for a complimentary skin care consultation.
Photos: Christine Hahn | Words: Hilary Presley